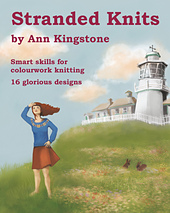 Illustration by Adriana Hernandez
I've only met Ann Kingstone a couple of times in person. I've been so bowled over by her friendliness that I already consider her one of my closest knitting buddies and I was absolutely thrilled to be asked to review her latest book 'Stranded Knits - Smart skills for colourwork knitting, 16 glorious designs'. Her warmth and supportive nature come out in her writing too, so in knitting up her designs, you just know that she is willing you on to succeed, providing you with all the information, advice and hand-holding you need to take your skills to the next level.
In her instructions she makes everything as easy as possible. Concise and unambiguous instructions. Extra explanations and diagrams for the techniques that until now you thought of as 'advanced.' Clear and beautifully coloured charts.
So, in Stranded Knits you get all that as well as 16 to-die-for colourwork designs in which to practise your new skills. Ann shows the endless variations possible just by stranding two colours across a row of knitting (and she even helps you with deciding which two colours!) Despite the complexity of some of the garments, they are all achievable due to the help in the skills section, which covers steeking (cutting into your knitting), two-handed colourwork knitting, short rows, cast on techniques and more. This book provides everything except needles and yarn!
Field Study Photo by Verity Britton
So, which are my favourites? I love the patterning in Field Study and how one section of pattern merges into the next. Knitted in just two colours throughout and worked in the round (as are all the designs in the book) and st
eek
ed at the neck it would take me an age, but it's a jumper worth attempting for its sheer beauty.
Thomasina Photo by Verity Britton
Alternatively, for a smaller project, Thomasina combines stranding with increases and decreases to create directional knitting within the pattern. This is probably the one I'll make up, because I don't have too much time for personal knitting.
William Photo by Verity Britton
And I love, love, love the rabbits in William. Traditionally motifs like this would be knitted in the intarsia technique, using separate strands of yarn for each section of colour, but if you prefer to strand, Ann shows you where to trap the yarn at the back of the work so the floats aren't over long.
Well, all this does sound rather gushing, so to balance it out I do have a couple of niggles. Firstly, the colour wheel, which Ann calls 'basic' isn't a standard wheel as the primary and secondary colours aren't in the usual, regularly spaced places. But her accompanying explanations make up for this for me. Secondly, some of the adult necklines seem rather wide, and although I personally prefer wider necks, these seem to be wide to the point of falling off the shoulders. In a collection of this type, where the emphasis is on the stranded colourwork, I might have hoped to see at least an option for a more traditional neckline. But never fear, because Ann has provided advice for altering necklines in her Ravelry group. I told you she was supportive!
I asked Ann how the idea for the book came about ...
"The idea for Stranded Knits came because I specialise in stranded colourwork, and realised I need to share some of my techniques with knitters. Many folk don't realise there are things they can do to make stranded knitting easy and fun. I wanted to take the fear out of it for folk."
I was interested in her method of placing stitch counts in a table rather than in the main text. It certainly makes the instructions easier to read, especially as the adult designs are written up from 32" to 58" bust - that's 14 sizes!
"I learnt pattern writing by trial and error. I'm sad to say that I am embarrassed by the quality of the instructions for some of the stuff I published back when I started designing. I've always been committed to excellence, and they were the best I knew how to do at the time. It's just that I've developed a lot since! I have a great relationship with my technical editor, Karen, and working with her has really helped improve my style.
The placement of the sizing information in tables is something I wondered about doing when I wrote the patterns for my first two jumper designs. I covered such a huge range of sizes that the text in the pattern was awkward to format. There were so many numbers in brackets everywhere! I thought it would make the pattern a lot less confusing if the sizing information was in tables instead of in the main text. However, as a newbie designer I didn't dare risk doing something so unorthodox until I had seen it done very effectively by Ysolda Teague in Little Red In The City."
Lastly I asked Ann where she is going in the future and what's the next book all about - because I for one can't wait!!
"I'm working on a book of seamless garments for beginner plus and intermediate knitters. The idea is to teach seamless constructions through designs that are approachable for new knitters, and knitters that are new to seamless knitting. The challenge is to also make those designs attractive and exciting! It's an interesting discipline for me... ;o)"

What makes this book essential for any adventurous knitter's bookshelf is the 'smart skills' section - this book will give you the confidence to start (and the skills to complete) any of the 16 'glorious' designs for women, children and men.
Put Stranded Knits on your Christmas list ...
... but while you are waiting, you could knit some of these - Ann Kingstone's Wesley Bobs (Wesley Bob is the traditional Yorkshire name for a Christmas decoration, and as an authentic Yorkshire lass Ann is rightly proud of her heritage). I'm casting on for my Wesley Bob as soon as this blog is published.
Wesley Bobs Photo by Ann Kingstone
Buy the pattern for Wesley Bobs here.
See all the designs in Stranded Knits on Ravelry.
Buy Stranded Knits by Ann Kingstone from good yarn shops.
All the designs in the book are shown knitted up in Rowan yarns.